All About Mothers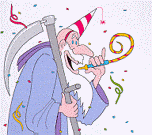 New Year Traditions
Most people in India are followers of the Hindu faith although most of the modern calendar is used for normal everyday business there are various versions of the ancient Hindu calendar are still used to govern the religious festivals.
The Hindu New Year is celebrated differently in the different parts of the country. The customs of the New Year vary from region to region.
Celebration of the Hindu New Year varies based on geographic location. Most Hindus live in India, but many have different traditions. The Hindus of Gujarat, in western India, celebrate the New Year at the end of October, at the same time as the Indian festival of Diwali. For the Diwali celebration, small oil lights are lit all along the rooftops.
In northern India, people wear flowers to celebrate the New Year, commonly in pink, red, purple, or white hues. Hindus in central India display orange flags, flying them from the top of buildings. In southern India, mothers put food, flowers, and small gifts on a special tray. On New Year's morning, children must keep their eyes shut until they have been led to the tray.
There is the Tamil New Year, Bengali New Year, Maharahtra New Year and the Diwalian New Year.


* * * * * AustralianMedia.com Family Network: * * * * *
Mens.Net | Womens.Net | Mothers.Net | Fathers.Net | Grandparents.Net | Teenagers.Net | Santas.Net | EasterBunnys.Net | JackOLanterns.Net | FatherTimes.Net | StValentines.Net HarvestFestivals.Net | BirthdayCelebrations.Net | ToothFairys.Net

© 2000 - present. Australian Media Pty Ltd. All Rights Reserved.
Please read our Legal Statement and Privacy Policy.