Valentines Day should be every day of the year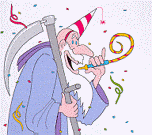 New Year Traditions
Diwalian New Year - Gujarat-Indian State
North-western Indian state of Gujarat celebrates its New Year festival of Diwali in the months of October or November.
Diwali is one of the most ancient Hindu festivals, which symbolizes the triumph of good over evil. It is only in Gujarat that it is considered as the New Year festival. In fact the second day of the festival is actually the New Year's Day of Gujarati.
This festival is said to have started after Rama returned to the kingdom to become king and the people lit lamps to welcome him. Another story is that it was because Rama had defeated the demon-king of Sri Lanka and released, his wife from captivity.
On the night of the Diwali festival everything is decorated with lights and lamps. Bottles of colored water may also be placed in front of the lamps to give them color and there are also fireworks displays.
The children receive sweets, ice cream and toys in the shapes of houses, boats, people and animals.


* * * * * AustralianMedia.com Family Network: * * * * *
Mens.Net | Womens.Net | Mothers.Net | Fathers.Net | Grandparents.Net | Teenagers.Net | Santas.Net | EasterBunnys.Net | JackOLanterns.Net | FatherTimes.Net | StValentines.Net HarvestFestivals.Net | BirthdayCelebrations.Net | ToothFairys.Net

© 2000 - present. Australian Media Pty Ltd. All Rights Reserved.
Please read our Legal Statement and Privacy Policy.