All About Mothers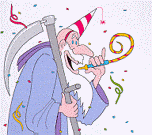 New Year Traditions
Here the New Year is celebrated on the first day of the new moon and may fall in the period of mid-march to mid-April.
Here the New Year is known as Gudhi Padwa meaning flag hoisting first day, on this day people fly saffron colored flags from their houses.
All families hold their own religious ceremony on New Years morning, at which the first page of the Almanac is read out. This contains the horoscope for the coming year. Offerings are made to the deities of garlands of flowers and vermilion. People may also visit their local temple. They have a special meal on New Year's Day and an important item on the menu is a bitter-sweet chutney.


* * * * * AustralianMedia.com Family Network: * * * * *
Mens.Net | Womens.Net | Mothers.Net | Fathers.Net | Grandparents.Net | Teenagers.Net | Santas.Net | EasterBunnys.Net | JackOLanterns.Net | FatherTimes.Net | StValentines.Net HarvestFestivals.Net | BirthdayCelebrations.Net | ToothFairys.Net

© 2000 - present. Australian Media Pty Ltd. All Rights Reserved.
Please read our Legal Statement and Privacy Policy.