All About Mothers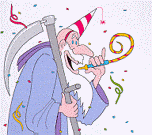 New Year Traditions
The Tamil people rise early on New Year's morning and gather around the household altar for a special religious ceremony. Ganesha a god worshipped at New Year is offered fruits, sweets and flowers. They have a feast of grains as New Year occurs at harvest time.
In the afternoon they might go to the temple for prayers.
The rest of the day is spent visiting various relatives, friends and exchanging New Year greetings. Presents given are money, fruits, betel leaves and areca nuts. Gifts are also given to the postman, council workers, domestic workers and others.
Business people might start new account books for the New Year on this day. Bonuses are often paid on the eve of the New Year.


* * * * * AustralianMedia.com Family Network: * * * * *
Mens.Net | Womens.Net | Mothers.Net | Fathers.Net | Grandparents.Net | Teenagers.Net | Santas.Net | EasterBunnys.Net | JackOLanterns.Net | FatherTimes.Net | StValentines.Net HarvestFestivals.Net | BirthdayCelebrations.Net | ToothFairys.Net

© 2000 - present. Australian Media Pty Ltd. All Rights Reserved.
Please read our Legal Statement and Privacy Policy.