All About Mothers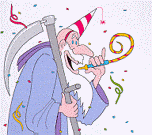 New Year Recipes:
Vietnamese New Year Cake - Banh Chung
2000 grams of rice
800 grams mung beans
1000 grams of pork
salt
a sprinkle of pepper
Vietnamese Onions
1. Prepare the mung beans the night before by siaking them in water. Drain the mung beans.
2. Prepare the rice by soaking it in cold water for at least 2 hours.
3.Cut pork into pieces, place in a bowl with onions, salt and pepper and mix together.
4. Boil or steam the mung beans with 1 teaspoon of salt until they are soft. Mash the mung beans up until they are like mashed potato.
5. Prepare the wrapping for the cake by placing two pieces of aluminium foil like a cross. Press this into an ice cream container to make it easier to shape.
6. Divide the rice into two portions tehn divide the mung beans into two portions.
7. Press a layer of the first portion of rice into the container. Make the second layer of mung beans. Spread the pork pieces over the beans. Then another layer of mung beans then the final layer of rice.
8. Fold the foil over the cake so that it looks like a square parcel.
9. Tip this onto another layer of foil and tie it up.
10. Place this sealed parcel into a large saucepan, cover with water and boil gently for 6 hours. Add more water every hour.
11. Carefully remove the saucepan and place in a large strainer. Submerge it in cold water for a few minutes, then gently tip it from side to side to drain off all the liquid.
12. PLace the wrapped parcel onto a wooden board and place then place another board on top of it for 2-3 days in a cool place. This will ensure that the cake is firm.
13. Remove the wrapping and serve in pieces or serve cut into slices and fry both sides until brown. Do not grease the pan if you intend to fry. The slices should form a kind of omelette by running together.


* * * * * AustralianMedia.com Family Network: * * * * *
Mens.Net | Womens.Net | Mothers.Net | Fathers.Net | Grandparents.Net | Teenagers.Net | Santas.Net | EasterBunnys.Net | JackOLanterns.Net | FatherTimes.Net | StValentines.Net HarvestFestivals.Net | BirthdayCelebrations.Net | ToothFairys.Net

© 2000 - present. Australian Media Pty Ltd. All Rights Reserved.
Please read our Legal Statement and Privacy Policy.