All About Mothers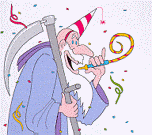 New Year Traditions
The more popular name for the Vietnamese New Year is Tet, where as the formal name is Nguyen-dan. Tet is a very important festival because it provides one of the few breaks in the agricultural year, as it falls between the harvesting of the crops and the sowing of the new crops.
The Vietnamese prepare well in advance for the New Year by cleaning their houses, polishing their copper and silverware and paying off all their debts.
They observe the custom of the kitchen god tao for a week before the New Year, they believe there are three gods represented by the three legs of the cooking equipment used in the kitchen. The middle god is a woman the other two are her husbands. It was once customary to provide the gods with a carp on which to travel. The carp represents the second last stage in the process by which animals are gradually transformed into dragons. They buy the carp from the market, bring it home and place it in a bucket of water to place at the altar of the house before it is later set free.
A special rice pudding is eaten at New Year which must be prepared beforehand. The rice pudding is known as banh Chung or banh Tet. The pudding contains mung beans and pork. New Year foods such as preserved sweets, beef, chicken, fish, oranges, coconuts, grapefruits and other seasonal fruits, especially watermelon. Watermelon is considered lucky because the flesh is red, so the choice of the melon must be taken carefully so as to find one rich in color. The seeds are often dyed red also and served as delicacies.
The last day of the year a plant such as the bamboo tree is planted in the courtyard of their homes. They decorate the tree with bells, flowers, and red streamers. The decorations are not for decorative purposes but are to guard the family against evil spirits.
During the middle of the day an offering is placed on the altar of the household for the ancestor's of the family. This is done every day throughout the New Year Festival and along with that incense is burnt at the altar.
They believed in the custom of the first person through the door in the New Year will reflect the family's future luck and wealth.
On the first day of the New Year they visit all their closest friends, teachers and their parents. The second day they visit their in-laws and other friends who are not as close. Third day they visit the family of their teacher and their more distant relatives.
On the fourth day the spirits return to heaven and business returns to normal.
They also visit their local temple and they bring back flowers or greenery as a gift from the celestial spirits. This gift will be kept in the house all year.


* * * * * AustralianMedia.com Family Network: * * * * *
Mens.Net | Womens.Net | Mothers.Net | Fathers.Net | Grandparents.Net | Teenagers.Net | Santas.Net | EasterBunnys.Net | JackOLanterns.Net | FatherTimes.Net | StValentines.Net HarvestFestivals.Net | BirthdayCelebrations.Net | ToothFairys.Net

© 2000 - present. Australian Media Pty Ltd. All Rights Reserved.
Please read our Legal Statement and Privacy Policy.