Birthday Celebrations Net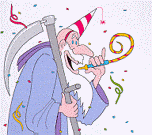 New Year Traditions
New Year's Eve is spent bidding farewell to the old year and thanking one's ancestors and the gods for their blessing and protection. Children who have left their homes return on this day to share New Year's Eve Dinner with their families, and for those unable to make the journey, a table setting is placed to symbolize their presence in spirit if not in body. At the end of dinner, the parents and older generation give New Year's money to the children, who have been waiting with growing anticipation for this moment to arrive. Finally, to watch the old year out and bring in the New Year, families stay up until the early hours of New Year's Day.
With the arrival of New Year's Day, life is renewed and the New Year begins to unfold amidst the noise of firecrackers. The Taiwanese begin the day by worshipping their ancestors, following which the streets become filled with people making New Year's visits to friends and relatives and with the lively display of dragon dancing, lion dancing, and other folk activities.
To insure the arrival of luck and wealth in the New Year, several taboos must be heeded. Floors may not be swept and garbage may not be disposed for fear of casting riches out the door, cussing and quarreling is to be avoided at all costs, and anyone who breaks a dish on this day must quickly say Peace for all time, to avoid incurring misfortune.
On the second day of the New Year, married women return to their parents home to visit family, on the fourth day, the gods return to the world of the living, and on the fifth day, many new stores and old businesses open their doors for the first time due to the auspiciousness of the day. The festive air of celebration continues in this manner all the way up to the Lantern Festival on the fifteenth day of the New Year before slowly ebbing back to normal life again.
Lantern Festival, also known as Shang Yuan Festival, takes place on the fifteenth day of the first moon. Last in a series of springtime celebrations, this second New Year is widely celebrated by families all around Taiwan.
On the night of the festival, decorative lanterns depicting birds, beasts, historical figures, and any one of a number of different themes are carried by children or adorn temples. To highlight these glowing works of art, competitions are held.
The night sky on Lantern Festival is also illuminated by the Tainan Yanshui Fireworks Display and Taipei Pinghsi Sky Lanterns known together as Fireworks in the South, Sky Lanterns in the North, as well as many other regional folk activities.


* * * * * AustralianMedia.com Family Network: * * * * *
Mens.Net | Womens.Net | Mothers.Net | Fathers.Net | Grandparents.Net | Teenagers.Net | Santas.Net | EasterBunnys.Net | JackOLanterns.Net | FatherTimes.Net | StValentines.Net HarvestFestivals.Net | BirthdayCelebrations.Net | ToothFairys.Net

© 2000 - present. Australian Media Pty Ltd. All Rights Reserved.
Please read our Legal Statement and Privacy Policy.