Everything Brunette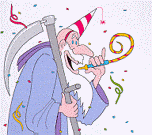 New Year Traditions
In Swaziland the harvest festival is called Newala or "first fruits" ceremony and takes place at the end of the year. It is a celebration of kingship, traditional has it that the king of Swaziland, the Ngwenyama or "Lion", has powers that are mystical and is believed to embody the Swaziland prosperity and fertility, and therefore it is said that he must have many wives and father many children.
The ceremony consists of many events, which last for up to a month, these include the gathering of foam from the tops of waves, the collection of water from the major rivers by a group of Bemanti or Swazi water officials. The day before they leave to collect the water and foam the king goes into seclusion.
Boys who have reached puberty gather lusekwane which is a type of acacia that is considered sacred, and bring it to the cattle pen.
The end of Newala occurs when warriors, chanting sacred songs, dance around the nhlambelo, the king's sacred enclosure, persuading him to rejoin his people. Eventually the king emerges with a face blackened with medicines, he wears a headdress of large black plumes, and a silver monkey skin belt, bright green grass covers his body. He does a dance that is improvised before his people, and at a point in the dance he eats part of a special pumpkin called Luselwa and then he throws the rest of it the warriors. This is supposed to mean that it is time for the new crops to be eaten. A bonfire is held at the end of Newala which is suppose to represent the burning of the previous year. It is also believed that rain will fall to quench the flames.


* * * * * AustralianMedia.com Family Network: * * * * *
Mens.Net | Womens.Net | Mothers.Net | Fathers.Net | Grandparents.Net | Teenagers.Net | Santas.Net | EasterBunnys.Net | JackOLanterns.Net | FatherTimes.Net | StValentines.Net HarvestFestivals.Net | BirthdayCelebrations.Net | ToothFairys.Net

© 2000 - present. Australian Media Pty Ltd. All Rights Reserved.
Please read our Legal Statement and Privacy Policy.