Everything Brunette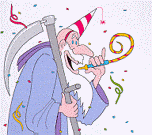 New Year Traditions
In Sri Lanka they celebrate the New Year on 13 or 14 April because they use the Hindu calendar to set the date for the festival.
They clean their houses during the days leading up to the New Year, they might even paint their houses and they also make several types of sweets to be eaten on New Year's Day.
No food is cooked and there are no lights or fires lit on the night before New Year.
They visit family, friends etc. Their first meal is pongal milk rice and is cooked by the father or chief male relative.
They play games such as Gudu which is a game similar to cricket or baseball but with a small stick and a large stick.
Another game is played with coconuts where you try to smash each others coconut.


* * * * * AustralianMedia.com Family Network: * * * * *
Mens.Net | Womens.Net | Mothers.Net | Fathers.Net | Grandparents.Net | Teenagers.Net | Santas.Net | EasterBunnys.Net | JackOLanterns.Net | FatherTimes.Net | StValentines.Net HarvestFestivals.Net | BirthdayCelebrations.Net | ToothFairys.Net

© 2000 - present. Australian Media Pty Ltd. All Rights Reserved.
Please read our Legal Statement and Privacy Policy.