Everything Blonde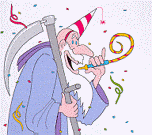 New Year Traditions
In Punjab the New Year festival is known as Baisakhi and is celebrated on 13 April. In the city of Amritsar a fair is held. Women and children wear new clothes bought for the occasion. Men give each other new turbans as a sign of good wishes.
The city is always crowded for the festival. There are all sorts of activities going on such as stalls of food, musicians playing, and jugglers. Farmers bring their animals to be sold at the fair. In the nearby countryside the corn is ready to be harvested. But they don't do this until after the fair.
This day is also an important religious festival. They believe in the one God whom they call The True Name. They believed him to be the one and only who created all things and is worshipped in all the main religions of the world.
Punjab was ruled at one stage by a Muslim Emperor who tried to stamp out the Sikh religion. He asked if anyone was willing to die for their faith, five brave men stepped forward, soon others followed. They were baptized and took a solemn vow. They promised to keep five signs to remind others of their vows.
These signs all begin with the letter "K" are known as the Kesh Kanga Kachs Kara Kirpan. Kesh meant they do not cut their hair or shave. Kanga a comb used to help keep their hair neat under their turbans, which stood for obedience. Kachs were shorts they wear under their outer clothes, to show freedom. Kara a steel bracelet for strength. Kirpan which was a short curved sword.


* * * * * AustralianMedia.com Family Network: * * * * *
Mens.Net | Womens.Net | Mothers.Net | Fathers.Net | Grandparents.Net | Teenagers.Net | Santas.Net | EasterBunnys.Net | JackOLanterns.Net | FatherTimes.Net | StValentines.Net HarvestFestivals.Net | BirthdayCelebrations.Net | ToothFairys.Net

© 2000 - present. Australian Media Pty Ltd. All Rights Reserved.
Please read our Legal Statement and Privacy Policy.