Everything Blonde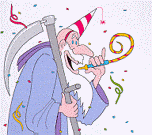 New Year Recipes:
500 grams flour
1/4 litre luke warm milk
20 grams compressed yeast
60 grams melted butter or margarine
rock salt in grinder
1 beaten egg yolk
1. Mix flour and salt in a bowl.
2. Crumble the yeast , add the milk and mix together.
3. Add the yeast mixture to the flour along with the melted margarine or butter, mix well and knead into a smooth dough.
4. Take a handful of dough, roll it and tie it into the pretzel knot.
5. Brush each pretzel with egg yolk and sprinkle with ground rock salt.
6. Arrange each pretzel on a greased baking tray.
7. Bake in a hot oven for 25-30 minutes until brown.


* * * * * AustralianMedia.com Family Network: * * * * *
Mens.Net | Womens.Net | Mothers.Net | Fathers.Net | Grandparents.Net | Teenagers.Net | Santas.Net | EasterBunnys.Net | JackOLanterns.Net | FatherTimes.Net | StValentines.Net HarvestFestivals.Net | BirthdayCelebrations.Net | ToothFairys.Net

© 2000 - present. Australian Media Pty Ltd. All Rights Reserved.
Please read our Legal Statement and Privacy Policy.