Birthday Celebrations Net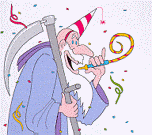 New Year Traditions
At the announcement of Persian New Year or Noruz which is the exact moment of spring, all family members sit around haft-sin table and may read a prayer for health and happiness.
At the announcement of New Year, all members of the family kiss each other. There is also special meal that is prepared for the first day of New Year. The main part of meal includes special rice made with herbs called sabzi polo, special fish, and kuku sabzi, a quiche made with herbs.
From the first day of New Year to 12th day, people visit each other, usually younger people visit the older family members and relatives first. Children receive Eidi which is money given by adults as their New Year's present.
On the 13th day of the New Year called Sizdeh bedar, everyone goes to picnics as it is considered unlucky to stay indoors on 13th day. You throw the Sabzeh which is a wheat or lentil seeds you grew for haft-sin table in running water, to remove the bad luck from your home of the previous year. It is common to eat a special noodle soup for Sizdeh bedar.


* * * * * AustralianMedia.com Family Network: * * * * *
Mens.Net | Womens.Net | Mothers.Net | Fathers.Net | Grandparents.Net | Teenagers.Net | Santas.Net | EasterBunnys.Net | JackOLanterns.Net | FatherTimes.Net | StValentines.Net HarvestFestivals.Net | BirthdayCelebrations.Net | ToothFairys.Net

© 2000 - present. Australian Media Pty Ltd. All Rights Reserved.
Please read our Legal Statement and Privacy Policy.