Valentines Day should be every day of the year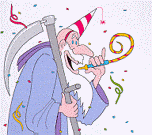 New Year Traditions
In Egypt the New Year is a public holiday and has a very festive atmosphere. Although they know in advance when the New Year begins they still observe the custom of the new crescent moon must be seen before the official announcement is made. The sighting is carried out at the Muhammad Ali mosque which is at the top of the hill in Cairo. The message is then passed on to the religious leader known as the Grand Mufti and he proclaims the New Year.
The men who have been waiting outside the mosque wish each other a happy New Year by saying "Kol Sana We Enta Tayeb!" and then go home to tell their families. Then all families sit down for a special New Year dinner. On this day even the poorest of family serves some meat. No alcohol is served because Muslims do not drink.
On this day everyone dresses up in special clothes even the girls are allowed to wear bright colored dresses. Usually they are only allowed to wear black.
The children are given sweets. Boys are given a sweet molded into the shape of a boy on horseback. Girls are given one in the shape of a girl wearing a dress. The sweets are surrounded by colored paper shaped like an accordion.
The New Year for the adults is a day for visiting friends. In some villages the father or the head of the family goes from house to house wishing each family a happy New Year collecting people as they go, until they end up at the Mayor's house.


* * * * * AustralianMedia.com Family Network: * * * * *
Mens.Net | Womens.Net | Mothers.Net | Fathers.Net | Grandparents.Net | Teenagers.Net | Santas.Net | EasterBunnys.Net | JackOLanterns.Net | FatherTimes.Net | StValentines.Net HarvestFestivals.Net | BirthdayCelebrations.Net | ToothFairys.Net

© 2000 - present. Australian Media Pty Ltd. All Rights Reserved.
Please read our Legal Statement and Privacy Policy.