All About Mothers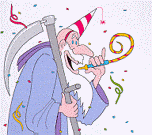 New Year Traditions
They Mayan people celebrate their New Year during the month of July in the Gregorian calendar.
The Mayans have a number of gods which were worshipped. Each year at New Year a different god was the focus of the New Year. New idols were made, the entrances and implements of the temple were deconsecrated with blue paint which was a sacred color. When everything was ready, the god would enter from the compass direction associated with them.
They would also perform domestic renewal rituals for the New Year such as destroying all their old pottery and fiber mats and putting on new clothes.


* * * * * AustralianMedia.com Family Network: * * * * *
Mens.Net | Womens.Net | Mothers.Net | Fathers.Net | Grandparents.Net | Teenagers.Net | Santas.Net | EasterBunnys.Net | JackOLanterns.Net | FatherTimes.Net | StValentines.Net HarvestFestivals.Net | BirthdayCelebrations.Net | ToothFairys.Net

© 2000 - present. Australian Media Pty Ltd. All Rights Reserved.
Please read our Legal Statement and Privacy Policy.