All About Mothers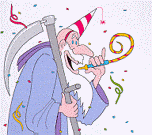 New Year Traditions
The first day of the lunar New Year is called Sol-nal. This is for families to renew ties and prepare for the new year.
New Year's Eve: People place straw scoopers, rakes or sieves on their doors and walls to protect their families from evil spirit sin the new year.
Everyone dresses in new clothes, the following morning, symbolizing a fresh beginning, and gathers at the home of the eldest male family member. Ancestral memorial rites are held, then the younger generation bows to elders in the family. They wish them good health and prosperity in the coming year. The elders often then give newly minted money or gifts afterwards.
New Year's Day food includes: a bowl of rice cake soup ttokkuk. Koreans believe eating this soup will add and extra year of age to your life. Korean age is actually calculated at the New Year. Everyone becomes a year older on New Year's Day!
Favorite games: yut nori, a stick game, and see-sawing on large see-saws setup in the courtyard or in parks.


* * * * * AustralianMedia.com Family Network: * * * * *
Mens.Net | Womens.Net | Mothers.Net | Fathers.Net | Grandparents.Net | Teenagers.Net | Santas.Net | EasterBunnys.Net | JackOLanterns.Net | FatherTimes.Net | StValentines.Net HarvestFestivals.Net | BirthdayCelebrations.Net | ToothFairys.Net

© 2000 - present. Australian Media Pty Ltd. All Rights Reserved.
Please read our Legal Statement and Privacy Policy.