All About Mothers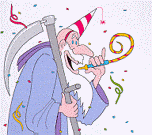 New Year Traditions
The Japanese New Year Oshogatsu is an important time for family celebrations, when all the shops, factories and offices are closed.
The Japanese celebrate the New Year on January 1, but they also keep their beliefs from Shinto their religion.
To keep out evil spirits, they hang a rope of straw across the front of their houses, which stands for happiness and good luck.
When the New Year begins, the Japanese people begin to laugh, and this is supposed to bring them good luck in the New Year.
In Japan temple bells usher out the old year, and then comes the joyano-kane which is the "night-watch bell", this is a series of exactly 108 peals. These, it is said, free the faithful from the 108 "earthly desires" lambasted in the Buddhist canon.
The ringing of the bell 108 times is done to free the year form evil. For those who follow the Shinto religion the house is decorated with evergreen s which are the symbol for eternal life and bamboo which is the symbol for honesty.
The Japanese New year begins on January 1 and lasts for two weeks. These two weeks are full of hatsu, portentous "firsts", all to be favored with acute awareness and a sense of the bittersweet nature of first-time-ness.
Hatsu-dori is the year's first cockcrow, Hatsu-mode the year's first shrine or temple visit, goyohajime the year's first day of business.
The 2nd of January is set down for kakizome, "first writing". Each member of the family takes a turn dipping a Burch into freshly mixed ink and inscribing a favorite poem or proverb onto a long strip of paper.
Paper lobsters are used as decorations in many Japanese houses at New Year. The reason is that the lobster's curved back resembles an elderly person and every New Year's greeting includes a wish for longevity.
There are two festivals to mark the New Year in Japan these are the Greater and the Lesser. The Greater Festival prayers are offered to the dead and friends exchange ritual gifts and visits. The Lesser Festival prayers for good crops are offered to the god of the rice paddy and a bird-scaring ritual takes place.


* * * * * AustralianMedia.com Family Network: * * * * *
Mens.Net | Womens.Net | Mothers.Net | Fathers.Net | Grandparents.Net | Teenagers.Net | Santas.Net | EasterBunnys.Net | JackOLanterns.Net | FatherTimes.Net | StValentines.Net HarvestFestivals.Net | BirthdayCelebrations.Net | ToothFairys.Net

© 2000 - present. Australian Media Pty Ltd. All Rights Reserved.
Please read our Legal Statement and Privacy Policy.