Valentines Day should be every day of the year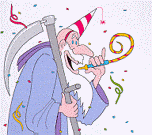 New Year Recipes:
Ingredients:
1 unbeaten egg
1/4 cup sugar
1/4 cup flour
1/2 tsp vanilla
1/2 tsp cinnamon
1/8 cup butter
Directions:
1. Combine unbeaten egg white and sugar; mix well until sugar is dissolved. Stir in, one at a time, flour, vanilla, and cinnamon. Beat until well-blended.
2. Melt butter. Beat the butter into the batter.
3. Drop the dough by teaspoonfuls well aprt on a lightly greased cookie sheet.
4. Bake at 350 for 12 to 15 minutes until the edges are lightly browned. Let stand one minute only.
5. While still warm, shape the fortune cookies into hollow tubes by wrapping baked cookies around the handle of a wooden spoon. Slip fortunes inside the cookies and press cookie ends closed.
6. If the cookies cool too quickly, place in a warm oven for a few seconds before shaping.


* * * * * AustralianMedia.com Family Network: * * * * *
Mens.Net | Womens.Net | Mothers.Net | Fathers.Net | Grandparents.Net | Teenagers.Net | Santas.Net | EasterBunnys.Net | JackOLanterns.Net | FatherTimes.Net | StValentines.Net HarvestFestivals.Net | BirthdayCelebrations.Net | ToothFairys.Net

© 2000 - present. Australian Media Pty Ltd. All Rights Reserved.
Please read our Legal Statement and Privacy Policy.