Valentines Day should be every day of the year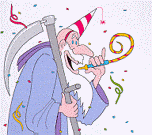 New Year Traditions
In Europe the custom of first-footing is practiced. This is where the first person to enter the house after midnight must be male and is supposed to bring good luck to the household. The visitor is also supposed to bring a gift such as money, bread, or coal, this are suppose to ensure the family will have plenty of these in the coming year.
Throughout the world the custom of making noise to ring in the New Year has not gone untouched as this was supposed to scare off any evil spirits. Today any noise is used such as clackers, toy trumpets, whistles, and bells are party favors given to guests to use when the New Year has rung in.
In Macedonia bells ring in the New Year.
In Europe the New Year was a time for superstition and fortune-telling.


* * * * * AustralianMedia.com Family Network: * * * * *
Mens.Net | Womens.Net | Mothers.Net | Fathers.Net | Grandparents.Net | Teenagers.Net | Santas.Net | EasterBunnys.Net | JackOLanterns.Net | FatherTimes.Net | StValentines.Net HarvestFestivals.Net | BirthdayCelebrations.Net | ToothFairys.Net

© 2000 - present. Australian Media Pty Ltd. All Rights Reserved.
Please read our Legal Statement and Privacy Policy.