Valentines Day should be every day of the year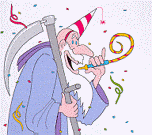 New Year Recipes:
Cinnamon Stars - Zimtsterne
125 grams ground almonds
125 grams ground hazelnuts
250 grams castor sugar
50 grams grated rind of a lemon
1 teaspoon cinnamon
2 -3 egg whites
Also make a glaze by mixxing together 150 grams icing sugar and 1 beaten egg white.
1. Combine all ingredients, mix to a stiff dough, cover and leave one hour in a cool place.
2. Roll out the dough, cut out star shapes and paint with the glaze.
3. Place on a lightly greased tray. Bake in a moderate oven for 10 minutes.


* * * * * AustralianMedia.com Family Network: * * * * *
Mens.Net | Womens.Net | Mothers.Net | Fathers.Net | Grandparents.Net | Teenagers.Net | Santas.Net | EasterBunnys.Net | JackOLanterns.Net | FatherTimes.Net | StValentines.Net HarvestFestivals.Net | BirthdayCelebrations.Net | ToothFairys.Net

© 2000 - present. Australian Media Pty Ltd. All Rights Reserved.
Please read our Legal Statement and Privacy Policy.