Valentines Day should be every day of the year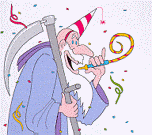 New Year Recipes:
Chocolate Pretzels - Schoklade Brezeli
150 grams of margarine or butter
100 grams icing sugar
1 egg
225 grams flour
25 grams cocoa
100 gramscooking chocolate
1. Soften teh butter or margarine in a bowl and mix in the icing sugar, lightly beaten egg and salt.
2. Sift in flour and cocoa and mix together to make a stiff dough. Leave for 30 minutes.
3. Roll out pieces of dought to the shape of pretzels.
4. Place on a lightly greased tray and bake for 15-18 minutes in a moderate oven.
5. Melt cooking chocoalte with water over a low heat.
6. Drop each pretzel into the hot chocolate and quickly remove. Dry each pretzel on greaseproof paper.


* * * * * AustralianMedia.com Family Network: * * * * *
Mens.Net | Womens.Net | Mothers.Net | Fathers.Net | Grandparents.Net | Teenagers.Net | Santas.Net | EasterBunnys.Net | JackOLanterns.Net | FatherTimes.Net | StValentines.Net HarvestFestivals.Net | BirthdayCelebrations.Net | ToothFairys.Net

© 2000 - present. Australian Media Pty Ltd. All Rights Reserved.
Please read our Legal Statement and Privacy Policy.