Birthday Celebrations Net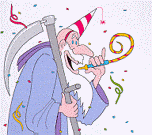 New Year Traditions
The people of Cambodia use the Indian Calendar to calculate the start of the New Year festival. The festival starts on the 12, 13 or 14 April according to the Gregorian calendar and lasts for three days. Cambodian New Year's Eve is the day before whichever date it is and it lasts three days. It is called Chaul Chnam Thmey which means entering the New Year.
People clean and decorate their houses, as well as set up an altar to welcome the New Year Spirit Tevada Chhnam Thmey who is said to come down to earth at this time. A statue of the Buddha is put on the altar, also flowers, candles, incense, a bowl of scented water, food and drink, and banana leaves shaped into different figures.
People douse each other with water as a blessing. Water can be colored red, pink, or yellow to symbolize a colorful future. New Clothing is worn. Children give money to their parents, aunts, uncles as a sign of respect. They may also give food or fruit in addition.
Day one of the festival people visit their local monastery and offer food to the monks. A special sand mound is built in the grounds of the monasteries on this day. The mound is decorated with five religious flags, one on top of the mound and four around the sides. Special games such as the Tug-Of-War, Angkunh and Boh Choong are played at the monasteries on each day of the festival.
Day two people gather with their families to wish each other a happy New Year and exchange gifts. They might also visit the monastery again to ask the monks to say a special prayer for their ancestors.
Day three the Buddha statues of their homes and the monasteries are washed. It is said this ensures good rains during the coming year. Children wash the feet of their parents as sign of respect on this day as well.


* * * * * AustralianMedia.com Family Network: * * * * *
Mens.Net | Womens.Net | Mothers.Net | Fathers.Net | Grandparents.Net | Teenagers.Net | Santas.Net | EasterBunnys.Net | JackOLanterns.Net | FatherTimes.Net | StValentines.Net HarvestFestivals.Net | BirthdayCelebrations.Net | ToothFairys.Net

© 2000 - present. Australian Media Pty Ltd. All Rights Reserved.
Please read our Legal Statement and Privacy Policy.