Birthday Celebrations Net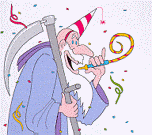 New Year Traditions
In Austria 1691 Pope Innocent XII declared January 1 to be New Year's Day.
In Austria, New Year's Eve is called Sylvesterabend which is the Eve of Saint Sylvester. They make a punch made of cinnamon, sugar, and red wine in honor of him. Taverns and inns are decorated with evergreen wreaths. Confetti, streamers, and champagne are also part of New Year's Eve. Evil spirits of the old year are chased away by the firing of mortars called böller. Midnight mass is attended and trumpets are blown from church towers at midnight. People exchange kisses.
There are fireworks in larger cities. In Vienna, the Straus operetta Die Fledermaus is performed every New Year's Day and New Year's Eve at the Vienna State Opera, and an all Strauss concert is performed by the Vienna Philharmonic.
Dinner in Austria is a big occasion on New Year's Day. This is the day they eat suckling pig. The pig symbolizes good luck. Often the table is decorated with little miniature pigs made of marzipan, maple sugar, fudge, cookie dough or chocolate. The four leaf clover is also another symbol used. Sometimes green peppermint ice cream is served in the shape of a four leaf clover after the roast pig course.
New Year's Eve begins with the Carnival season called Fasching that lasts until Lent. Balls and parties are thrown. On New Year's morning mass is attended and children sing carols door to door. They pour molten lead into a bucket of water. Soothsayers read the lead shapes, bleigiessen, and make predictions. It is a bad omen to see an old woman.
Pork and carp are the favorite foods for celebrations. They are considered good luck. Faschingkrapfen which are Carnival jelly donuts are eaten. Good luck symbols called Glücksbringer are exchanged. Glucjsbringer's are chocolate and marzipan candies shaped like pigs, gold coins, chimney sweeps, four-leaf clovers, and horseshoes.


* * * * * AustralianMedia.com Family Network: * * * * *
Mens.Net | Womens.Net | Mothers.Net | Fathers.Net | Grandparents.Net | Teenagers.Net | Santas.Net | EasterBunnys.Net | JackOLanterns.Net | FatherTimes.Net | StValentines.Net HarvestFestivals.Net | BirthdayCelebrations.Net | ToothFairys.Net

© 2000 - present. Australian Media Pty Ltd. All Rights Reserved.
Please read our Legal Statement and Privacy Policy.