Birthday Celebrations Net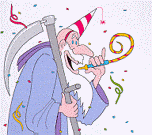 New Year Recipes:
Almond and Cardamom Pastry - Baqlawa
2 2/3 cups of ground almonds also finely chopped
2/3 cup of castor sugar
1 flat teaspoon ground cardamom
10 sheets filo pastry
1/2 cup of melted butter or margarine
1 1/2 cups sugar
1 cup water
1 teaspoon of lemon juice
1/2 teaspoon ground cardamom
a sprinkle of rose water
1. Mix together the almonds, sugar and cardamom then divide into 3 portions.
2. Brush a baking dish with melted margarine or butter place the filo pastry into the baking dish and brush with margarine or butter. Continue until there are 3 layers of filo each brushed with butter.
3. Spread with one portion of nut mixture covered with 2 sheets of filo brushed with butter or margarine.
4. Repeat the process then the top is covered with 3 sheets.
5. Cut into small diamond shapes.
6. Bak in a moderate oven 35-40 minutes until they are golden brown.
7. Now combine the sugar and water in a saucepan and boil rapidly for 15-20 minutes. Add the lemon juice and cardamom after 10 minutes then remove from heat.
8. Remove the Baqlawa from oven. Add rose water to warm syrup and pour slowly and evenly over hot baqlawa in baking tray.
9. Leave for several hours then run a knife through the triangle to loosen the edges so that you can remove them from the baking tray.


* * * * * AustralianMedia.com Family Network: * * * * *
Mens.Net | Womens.Net | Mothers.Net | Fathers.Net | Grandparents.Net | Teenagers.Net | Santas.Net | EasterBunnys.Net | JackOLanterns.Net | FatherTimes.Net | StValentines.Net HarvestFestivals.Net | BirthdayCelebrations.Net | ToothFairys.Net

© 2000 - present. Australian Media Pty Ltd. All Rights Reserved.
Please read our Legal Statement and Privacy Policy.